Fast and Versatile Pallet Handling
The T20 – T25 R pallet trucks move loads of 2,000 to 2,500 kg effortlessly at speeds of up to 10 km/h. This is ensured by its powerful 3 kW AC motor. Without a load, the maximum speed is as high as 12 km/h. These compact forklifts are also ideal for loading and unloading trucks. Thanks to the high seating position, which is perpendicular to the direction of travel, drivers have a clear view of the load and their surroundings in both directions. If energy-saving operation is required, ECO mode can be activated for the trucks. This reduces power consumption by 12 percent.
Characteristics
Safety
The T20 – T25 R pallet trucks combine high productivity with excellent safety. The driver's body is always surrounded by the protective vehicle contour. An optional load backrest stops potential falling loads, thus ensuring safe transfer of high loads. In the case of uneven floors, level compensation ensures that the stability of the truck is maintained at all times. In addition, an optional warning light ensures visibility of the truck. In the event of a collision, the rounded chassis steers the truck away from the obstacle, thereby helping to reduce damage and protect the driver.
Protective vehicle contour
Warning light
Level compensation
Optional load backrest
Rounded chassis
Ergonomics
The seat of the T20 – T25 R pallet truck is turned by 90 degrees in relation to the direction of travel. The lateral position, individual adjustment options and padded backrest make load handling comfortable and fatigue-free. Thanks to the innovative 'Tip Control', the truck can be controlled precisely and intuitively with one hand. An adjustable base plate also ensures that the driver's platform can be adapted to individual requirements. Entering the vehicle is also particularly comfortable thanks to a padded handle and the adjustable platform, ensuring that the first step always remains at the same height.
Lateral standing position
Padded backrest
Intuitive control
Adjustable base plate
Easier entry
Handling
The T20 – T25 R pallet trucks are extremely agile thanks to their compact chassis. Intuitive one-handed control allows precise maneuvering even in tight spaces. At speeds of up to 10 km/h, the trucks transport loads of 2,000 to 2,500 kg particularly quickly, thus increasing the productivity of handling. Without a load, speeds of up to 12 km/h are possible. This makes the T20 – T25 R pallet trucks particularly suitable for fast pallet transport, but also for intensive loading and unloading of trucks. The lateral and raised seating position provides a clear view of the loads.
Compact chassis
Intuitive one-handed control
Level compensation system for uneven floors
Lateral seating position for optimum visibility
Service
Easily accessible components and maintenance-free technologies reduce servicing expenses and increase vehicle availability. A CAN bus connection makes maintenance particularly efficient, as the necessary vehicle data can be retrieved and analyzed with a laptop. This allows maintenance intervals to be optimized and costs saved.
Easy maintenance access
Maintenance-free components
High vehicle availability
Fast diagnosis via CAN bus connection
Technical Data
| Model | Load capacity/Load | Lift | Travel speed, with/without load | Turning radius | Battery voltage/rated capacity (5h) |
| --- | --- | --- | --- | --- | --- |
| T20R | 2.0 (t) | 115 (mm) | 10 / 12 km/h | 1745 / 1815 (mm) | 24 / 345/375 [23/205] (V)/(Ah) o. kWh |
| T25R | 2.5 (t) | 115 (mm) | 10 / 12 km/h | 2190 / 2260 (mm) | 24 / 345/375 [23/205] (V)/(Ah) o. kWh |
Optional Equipment
Drive Wheels for Any Application
There is a selection of different drivewheels for different applications. Wheels are available in polyurethane, profiled solid rubber and non-chalking solid rubber, and there are wheels with wet grip material for wet ground conditions.
Heated Leather Seats
Leather seats and adjustable seat heating increase driving comfort when used in cold storage or in cold environments.
Fleet Management
How and by whom are the individual forklifts used? What does the usage data of the trucks look like and is every single truck fit to drive? With its combination of hardware and software, the connect fleet management system from Linde provides the answers.
Load Protection Grid
A load protection grid with a height of 1,115 or 1,875 mm ensures that loads cannot slip backwards and fall on the driver when the load carrier is raised.
Level Compensation
The system compensates for uneven ground and ensures that all wheels remain in constant contact with the ground, guaranteeing the stability of the forklift in every situation.
Panoramic Mirror
The panoramic mirror prevents blind spots in the driver's field of vision. The all-round visibility increases safety for the driver and the surroundings.
Lateral Battery Change
The lateral removal with roller bearings enables 4 PzS batteries to be changed quickly, which is especially ideal for multi-shift operation.
Tandem Load Rollers
The tandem load wheel is available in polyurethane and abrasion-resistant polyurethane versions.
Speed Reduction with Lowered Forks
An automatic reduction in travel speed when the forks are lowered makes load handling particularly safe and efficient.
Get a Quote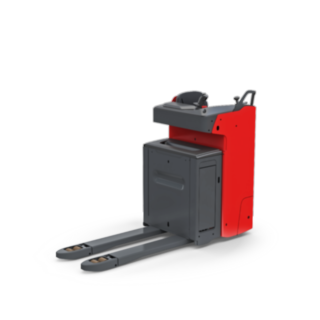 T20 – T25 R